Send SMS and e-mail reminder messages,

Create a new patient and appointment in 3 clicks,

Work from anywhere, with phone integration you could be anywhere

Use Credits to allow patients to buy block bookings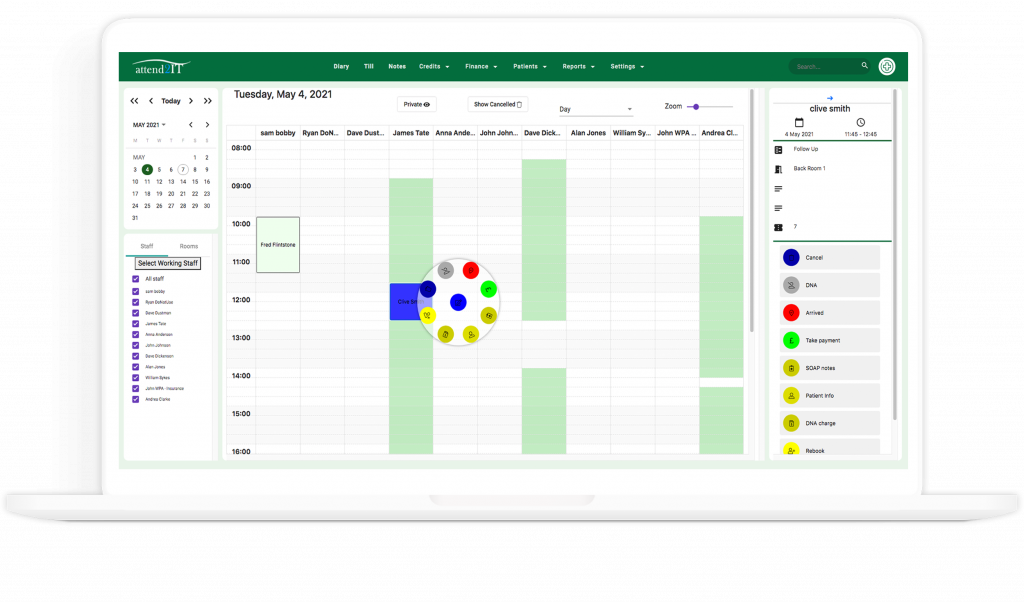 Emmebed into your website

Works on mobile and desktop

Patients can fill in questionnaire and full history online

Clinic can then approve or reject appointment
See clinic(s) complete profit and loss in under 2 clicks,

Complete financial management,

Calculate Commission for associates who can have their own price plan,

Create and accept Gift Vouchers – secure, code protected and personalised,

Assign patients accounts so they can over or under pay on appointments,

Detailed reports that can be exported to your favourite software for analysis.
Simple layout with only the information that's relevant,

Write patient / doctor letters automatically,

Simple notes designed like paper notes to ease work flow,

Draw on images as well as adding built in annotations to your notes,

Add pictures and x-rays to each patients notes,

Fast Text to allow quicker data entry.
No client side software required, use on any computer without installation,

All Modules included in cost,

Log on privileges to protect your data and restrict who can see what,

Use as much or as little as you like,

Access anywhere as Multiclinic works on multiple platforms.