Phone Services
We peer directly to a tier 1 VoIP provider, so you get the reliability and cost savings.  We also offer a very flexible system as show below.
Telephone Integration & Appointment Reminders
We believe our telephone integration to be a unique and time saving feature and it's included free of charge (phone hardware and calls are extra).
Send your patients a text 24hrs before the appointment to reduce the number of people who DNA (Do Not Attend). Charges are per text (10p). Typically people pay less than the cost of 1 appointment a month for this service, which means it will pay for itself within days!
If you spend over £5 a month on SMS then you can send e-mail reminders for free . E-mails arrive in an easy to read form, but also in a form that outlook will understand, for patients who use their outlook diary's they just click accept and the appointment will be placed in their calendar automatically
If you don't have a full time receptionist then the system can forward the call to a mobile when they are away. Got multiple clinics? The system can ring the first clinic and then the second and so until until somebody picks up the call. The system will take a message if everybody is busy regardless of which clinic has been rung. The possibilities are endless!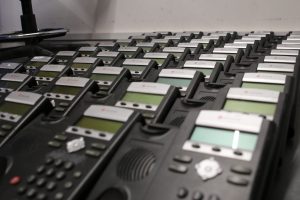 A virtual receptionist can be set up to guide patients through to the correct clinic, or offer them a prerecorded messages of commonly asked questions (opening times etc.)
The system used uses VOIP so the calls are cheap. You can use the system for calls abroad, 1p a min to phone Australia! Even national calls will show a saving. You can put phones in any clinic or house with a broadband connection, allowing you to transfer incoming (or outgoing) calls to any extention or even mobiles.
When an incoming call arrives the system looks up the number and compares it to the list contained in the patient database. If a number matches, the system will display the caller's name on the phone, your computer or both (depending on setup).
Need to phone a patient? Just navigate to the phone book (or click the name on the diary) and click the number you want to ring them on (work/mobile/home). The phone next to your computer rings, pick it up and the system starts to ring the patient.
Pricing
We charge £8.95 an extension.  However the options are quite large due to the flexibility of the system and we offer discounts for larger customers who also utilise Multiclinic.
For a full quote please get in touch.